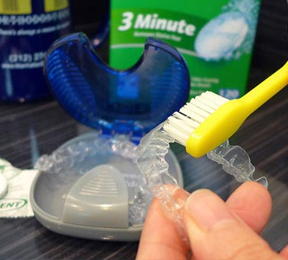 In this video we demonstrate how to clean Invisalign trays. To keep them clean and fresh, we recommend the following steps:
Gently scrub all surfaces, inside and outside, with a toothbrush under warm water. There is no need to use toothpaste. This should be done each time you put them back in your mouth.
Once every few days, soak your Invisalign trays or retainers in a cup of warm water and use 1 Polident or any other denture cleaning pill.
Let soak for about 3 minutes.
Remove and rinse once more with warm water before putting them back on.
If you follow these steps closely, you will always have clean Invisalign trays. All odors or discoloration should be eliminated.