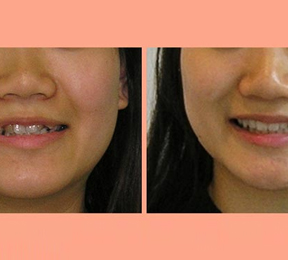 One of the biggest areas of concerns for patients is whether they need to take out teeth. You may have been told you needed to take out teeth by another orthodontist or you may simply be wondering, "HOW will she be able to straighten all those crowded teeth?"
A lot of factors play into deciding for braces teeth extraction vs non-extraction. I do not take this decision lightly. My preference is always to keep all the teeth. What may surprise you is that the deciding factor to take out teeth is NOT how crowded your teeth are. In fact, it is be based on all your facial features taken as a whole- your forehead, your nose, your chin, your cheeks and of course- your smile.
Let me give you an example with two patients I treated at Manhattan Bridge Orthodontics.
So here are two patients that presented with similar looking teeth. Both of these patients wondered whether teeth would need to be taken out. Looking at these before and after photos of their teeth, you may be surprised to learn that they were treated very differently.
Patient A was treated with no teeth removed or non extraction. Patient B was treated with 4 teeth removed or extraction of all her first bicuspids. Why? Because they are not just their teeth. Let's look at the difference in their facial features. They have similar looking teeth, but very different facial features- eg. different noses, different cheekbones.
For Patient A, not taking out teeth balanced her facial features more. For Patient B, removing teeth maintained a well balanced lip position.
Treatment planning is basically figuring out how to move teeth to create a smile that complements you. It involves thinking ten steps ahead and can be more complex than what I have described here. No matter how similar your teeth may be to someone else you know, every person is individual– Each presenting a unique orthodontic challenge. I love that orthodontics never gets old.
Dr. Jenny Zhu